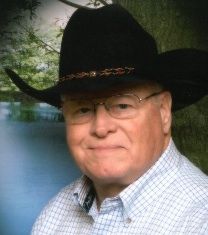 Private services for Clarence "Buster" Preston Williams, Jr., 66, of Ninnekah, will be held in May 2015, since his grandson is currently deployed in the United States Navy. Family and friends will be notified at that time.
Clarence "Buster" Preston Williams, Jr. was born on May 9, 1948 in Knoxville, Tennessee, the son of Clarence Preston Williams, Sr. and Helen (Chance) Williams. He died Wednesday, December 10, 2014 at his home in Ninnekah, Oklahoma.
Buster grew up and attended schools in Jacksonville, Florida, graduating from Terry Parker High School. He attended North Florida Junior College and the University of South Florida.
Buster chose to join the Navy during the Vietnam War, with the goal of becoming a Naval Aviator. He saw much of the world through his various stations in the Navy, progressively advancing his rank and education. By the time he retired from the Navy in 1989, he had earned a Bachelor's degree as an Aeronautical Engineer and a Master's degree in Aviation Management. . He retired from the Navy after 22 years, in 1989.  Buster then worked for the Federal Aviation Administration, teaching anti-terrorism to third world countries, retiring in 1998.
Buster and Margie (Briscoe) were married on July 6, 1995 in Jacksonville, Florida. He loved her three children, Cory, Cary, and Kendra as his own.
He was passionate about flying. He loved horses and was an avid John Wayne fan. Buster liked to travel and spend time at their home in Florida. He loved his numerous dogs and cats and deeply loved his family.
Buster was preceded in death by his parents and an uncle, Joe Moll.
He was loved and will be dearly missed by his wife, Margie Williams, of the home; son, Cory W. Melton and wife, Bernice, of Ninnekah; son, Cary D. Melton and wife, Shanna, of Ninnekah; daughter, Kendra Ko and fiancé, Paul Ferguson, of Chickasha; brother, Donnie Williams and wife, Susan, of Jacksonville, Florida; nine grandchildren; four great-grandchildren; an aunt, nephew, cousins, extended family and friends.
Buster's wishes were cremation with a scattering of his cremains in several places closest to his heart.